Syphoner
Syphoner gives the ability to share the graphical window's content of any open application and stream it in real-time, full frame, to any Syphon client applicaton. You can browse the web or draw a vector mask in your favorite software, and display instantly the result into your VJ or projection tool app.
Version 1.4 AVAILABLE NOW for MacOS 10.10 and above.


Syphon is an open source Mac OS X technology that allows applications to share frames - full frame rate video or stills - with one another in realtime. (http://syphon.v002.info).
Main features
Select any window from any open application
Real-time full frame output
Keep alpha channel
Crosshair to see where your cursor is on the window
Crop the image to trim the title bar or other unwanted parts
Screenshots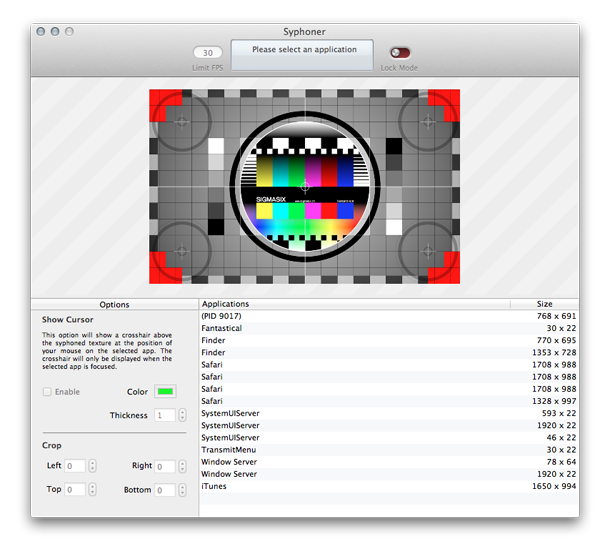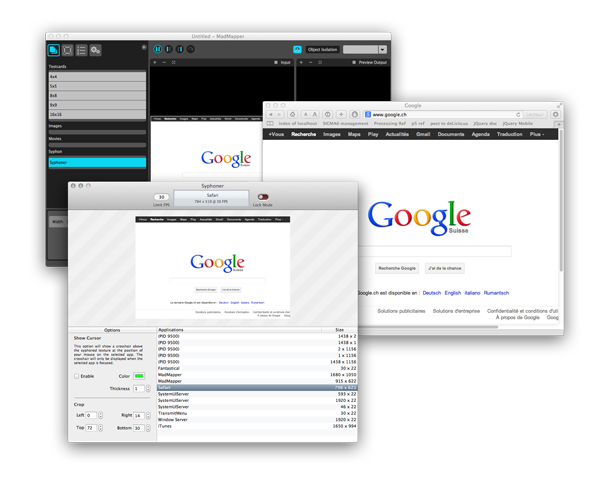 Release Notes
Version 1.4
Bug fixes
Save and open projects are back!
Version 1.3
Syphoner is now free
The name of the syphoned app is now in the syphon server name. You can duplicate Syphoner to stream different windows at the same time.
Version 1.1
Bug fixes
Compiled for MacOS 10.0
Version 1.0
Articles & Tutorials